Wake up your Feet, a barefoot trail near Rennes in Brittany!
An activity to bring the whole family together for a barefoot trail to rediscover your senses and improve your sense of balance. With more than 45 different materials to surprise the soles of your feet, enjoy the freedom to run, skip and walk through the 24 hectares (60 acres) of gardens.
En quelques mots
Open all the time the gardens are open
Ages 2 and above
Minimum 1 hour
Barefoot trail. Coin operated lockers available for your shoes (bring a 1 euro coin)
Sensory Trail
Take your shoes off, and feel with your feet!
The concept is simple and accessible to everyone: leave your shoes in the Garden cottage and follow the arrows… A kilometer long trail of astonishing materials awaits! Soft, grainy, sticky, slimy, spiky, cold, hot… a whole range of sensations to amuse you! Walk through the Asian garden on bamboo, enter the oak path on chestnut bark and try the animal jump. Maybe you'll be able to jump further than a flea! You will find yourself both surprised and reassured. It's about learning to feel the cold or the damp, softness or roughness, it's about observing and playing… In total, you will meet no fewer than 45 materials or textures! We guarantee that everyone will love this fun, playful experience.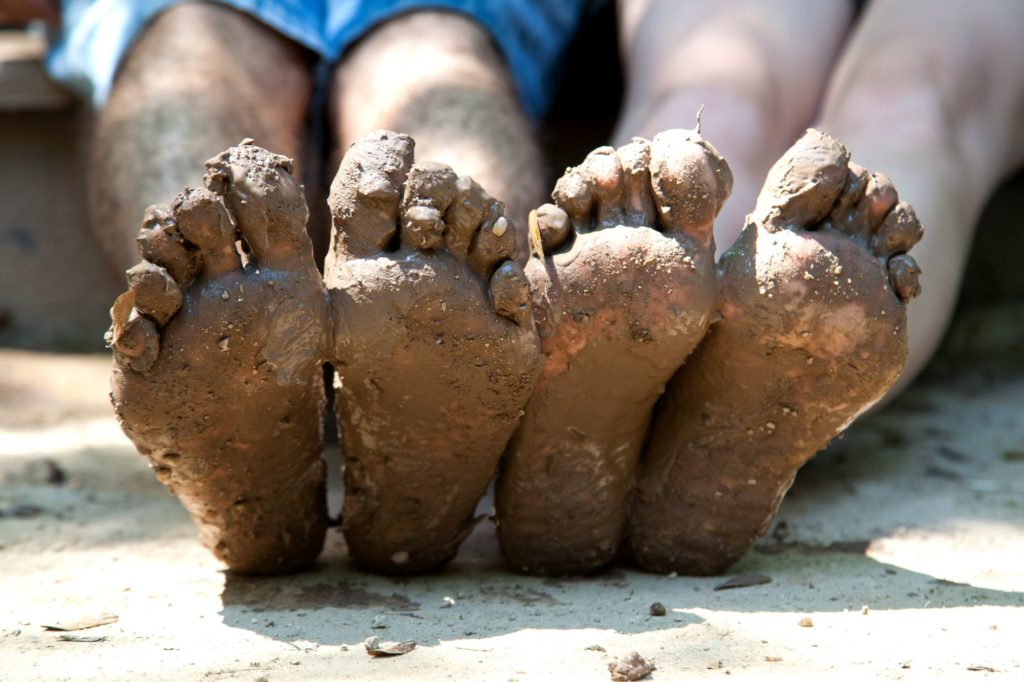 And what's the point?!
First you'll laugh, then maybe you'll scream, then comes relaxation and detox… You'll really feel like your feet are connected to the ground. You'll rediscover sensations you'd forgotten … or even never felt before! Barefoot trails are based on a German concept: 'Barfuss Park', and their aim is to help you rediscover your own sense of balance and improve your health by stregthening your vitality. At this point in time when well-being and finding oneself are such priorities, our sense of touch (even through our feet!) is extremely relevant. Our visitors often tell us they even sleep better after the experience!
After an hour of laughter and silliness, you can rinse your feet and put your shoes back on (or not!)… you still have 24 hectares of gardens to discover.
And for those of you who wish to continue to develop your senses, discover the « Activate your Senses » trail, or the "File là-haut@parcabout " ('Up You Go').